Lam-Plast concrete Formwork Board
The Lamm-Plast is an Innovative composite plastic sheet laminated shuttering formwork board, it is made up of waterproof densified plywood core and laminated on both sides with a 1 mm thick well-engineered composite plastic sheet, making it the perfect concrete formwork board, it is an enviro-friendly green building product.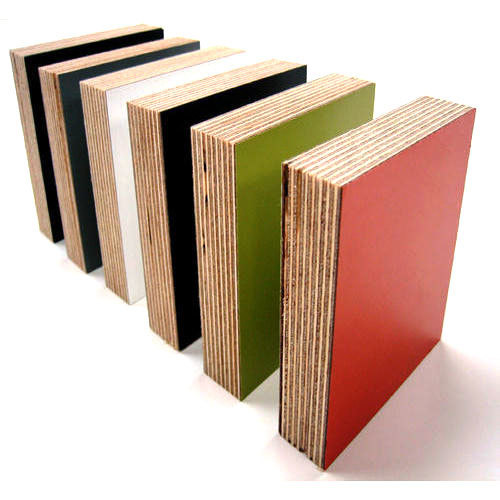 The composite plastic laminates are strongly bonded with the plywood surface using specially developed adhesive making it high water resistance, strong with high impact resistance, and with high wear resistance surface making it long and durable with very high repetitive uses, which makes it most economic and user friendly, thus making it a perfect formwork boards.

With careful use it delivers higher repetition uses, giving a smooth finish to concrete, which ultimately reduces cost and improves work quality. Its combined qualities of wooden formwork and the benefits of plastic formwork make it an ideal formwork board.
Product Specification
Thickness: 10mm, 12mm, 18 mm
Width: 1220 mm
Length: 2440 mm
Material: Waterproof plywood core laminated with 1 mm thick composite plastic sheet
Product Applications:
Used for all types of concrete formwork applications including walls, beams, columns, and slabs, in building constructions.
Utilized in all types of specialized RCC buildings where a high quality of accuracy and finish are required.
Utilized in a variety of modular formwork applications with frames made of aluminum, steel, GI, and other materials.
Used in various applications where high repetition is required.
Also innovatively used in concrete block pellets where there is high abrasive resistance and long durability is required.
Product Benefits
Water-proof Strong and Durable
Good screws and nails holding capacity
Termite, rot, and fungus resistant
Several repetitive uses are possible with careful use.
No de-shuttering agent for formwork is necessary.
Low expansion and contraction coefficient
Waterproof, does not swell or contract in wet-dry situations.
User-friendly and convenient to use
It can be cut, nailed, and fastened.
It provides concrete with a highly smooth surface.
With high recitative uses it becomes the most economic