Dimple Sheet- For Waterproofing Membrane Protection Application
Dimple sheets are produced with high-end technology using an inventive composite plastic polymer. This dimple sheet is used mainly as a protective layer over the waterproof, which also relieves the hydrostatic pressure by draining the water in the subsoil.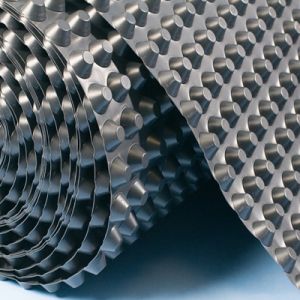 This dimple sheet membrane contributes to time and cost savings because of its lightweight construction and quick and simple installation without the need for heavy equipment. It is made up of a highly compression-resistant and flexible plastic dimple core, and it has a high tear, puncture, and chemically toxic water gas resistance. As a result, it helps extend the life of the waterproofing membrane in the foundation structure over which it is installed.
It is specifically designed for use along with all kinds of waterproofing membrane systems as well as any torch-applied waterproofing membranes. It is an import substitute product manufactured ingeniously using high-tech, innovative technology.
Product Specification
Thickness: Around 0.6 mm
Dimple Height: 8 mm
Width: 1.8 m
Length: 20 m
Wight around 600 gsm
Material: Innovative Composite Plastic
Product Application
Used mostly for retaining walls to shield the waterproofed surface from mechanical harm that could result from backfilling as well as from chemicals and harmful gases in the soil.
Used as a protective layer over the waterproofing system during the construction of basement foundations and basement floors.
Used as a layer of waterproofing protection in practically all underground structures.
Dimple sheets are installed vertically or horizontally, laid and fixed directly over waterproofing membrane systems.
Adjacent rolls can be bonded together by butt joints by overlapping at least 50mm using both side adhesive tapes.
Utilized to release hydrostatic water pressure that has built up on the subsurface around the underground building structure.
Used for water collection and drain management under planted podium decks, terrace-roof gardens, and deck-roof plazas.
Used when subsoil hydrostatic drains are necessary, such as in basements, lift pits, retaining wall protection, tunnel surface drain liners, bridge abutments, and many more places.
Product benefits
Fast, simple, and flexible installation that is light in weight.
Protects watertight structures from subsurface toxic water, foul gases, and corrosive chemicals while being resistant to plant roots.
Drains surplus water fast after removal and releases subsoil water pressure.
live waterproofing protection with great durability.
For a variety of depth applications, strong compressive strength offers high load-bearing capacity.
Offers a waterproofing system defense against mechanical forces.
High resilience to harsh conditions in naturally occurring groundwater, soil acids, and alkalis.
Economical in comparison to other techniques like gravel filling for water drainage or gluing polystyrene foam to walls.