Dimple Drain Sheet- for draining of sub-soil water
Dimple drain sheet is specifically designed for use with all waterproofing membrane systems as well as any torch-applied waterproofing membranes surface. It is an efficient, filtered sub-soil drainage system used for drainage of all underground ground structures. It comprises a highly compression resistant and flexible studded plastic dimple core bonded with non-woven filter fabric. The Dimpled drain plastic sheet provides effective protection for Waterproofed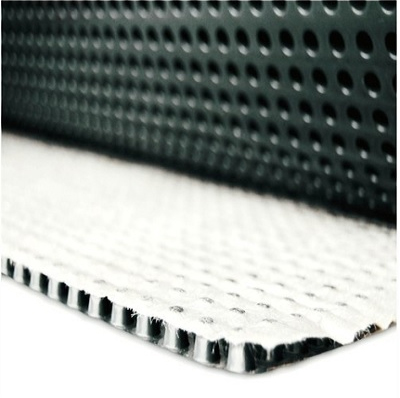 surface and drainage for subsoil water in foundation walls and other underground structures. . The integrated non-woven geotextile covering the dimples filters the subsoil water and prevents soil particles blocking the drainage sheet. Dimples creates gap and allows high water volumes to flow and releases high water pressure on waterproofed surface.

Dimple drain sheets are the best among all currently available imported materials since they are created using high end technology composite plastic material. Dimple drain sheet is produced in rolls that are 20 metres long and 1.8 metres wide. It is lightweight, simple to use, and doesn't need highly qualified people or special tools. Dimple drain sheet Drain System is used to replace conventional drainage aggregate/sand filled systems thereby saving time and resources.
Product Specification
Thickness: Around 0.6 mm
Dimple Height: 8 mm
Width: 1.8 m
Length: 20 m
Wight around 650 to 700 gsm
Material: Innovative Composite Plastic Overlapped and bonded with non-woven fabric
Product Application
Before backfill, a dimple drain sheet can be put directly over waterproofing membrane systems and attached either vertically or horizontally.
When utilising both-side PSA adhesive tapes, adjacent rolls can be joined together by butt joints or by overlapping at least 50mm.
Used in conjunction with a foundation drainage line wrapped with geotextile to release hydrostatic water pressure that has built up on subsurface structures.
It is utilised for a variety of water drain system applications, such as planters, boxes, walls, and floors, where a high and continuous natural sub soil water drain is necessary.
Used for water collection and drain management under planted podium decks, terrace-roof gardens, and deck-roof plaza,
Used in retaining walls, lift pits, basement foundations, and subsoil water drain such as Tunnel surface drain liner, bridge abutments etc.
Product Benefits
Dimple drain sheet has high compressive strength and is flexible
Pre-fabricated/manufactured drain and filter in a single component with easy installation
No on-site fabrication
No aggregates required
Non-toxic to plant root systems
It is made from innovative composite plastic polymer with high quality and performance
It is light weight, flexible, easy and fast to install.
It does not require highly skilled workers, specialised equipment, or machinery at all.
High volume voids providing maximum and quick subsoil water discharge capacity.
Due to high compressive dimples it has high load bearing capacity and can be used for higher depth applications.